The #1 Best Selling Cat Toy to Ease Your Cat's Anxiety!
Introducing the Pets Curations Anti-Depression Cat Ball Toy - The highest quality sisal ball toy ever to be produced. The base is expertly crafted from premium wood that is sturdy enough to endure your cat's constant play time. The spinning ball is made of high quality sisal that has been engineered in-house to ensure a longevity that is unmatched when compared to the standard scratching post.
Studies show that 1 in 4 cats suffer from depression on a daily basis, due to the lack of stimulating activity throughout the day. The standard scratching post that you can buy at your local pet store does not offer the wow factor that cat's are looking for which results in bored and depressed cats. Our specially engineered cat toy prevents this by adding the spinning effect that can keep your cat entertained for HOURS on end.

Local Store vs Pets Curations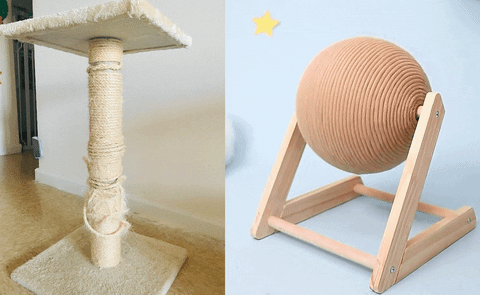 Our Anti-Depression Cat Ball Toy Features:
Years of Stimulating Activity - The spinning effect of our toy prevents future boredom. Our goal is to help you proactively prevent depression

 

with your cat before it starts to develop due to lack of stimulating activities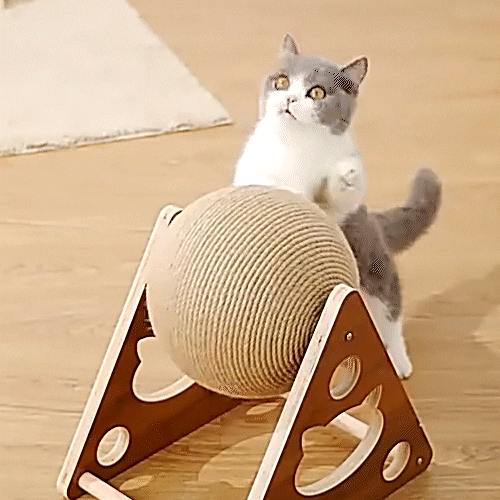 Healthy Claw Management - Forget the days of

 

struggling to cut

 

your cat's

 

claws

 

to a manageable length. Your cat will enjoy our toy so much that it will naturally trim your cat's claws as they scratch at our durable ball.
Furniture Protection - Are you tired of your

 

cat using

 

your

 

furniture

 

as a

 

scratching post

 

resulting in pills or hole-throughs? Our ball toy is

 

guaranteed

 

to grab your cat's attention and prevent them from using your expensive furniture as its next toy. 
Easy Set-Up - Our cat ball toy is easily assembled once you receive it. It only requires 6 bolts to tighten and you're done! Thousands of our customers have sent us videos saying it took them

 

less than 5 minutes

 

to set up!
High Quality Materials - Our stand is crafted from premium wood and the spinning ball uses our specially engineered sisal that is made to last for years to come. The standard scratching post found at local pet stores tend to wear 5 times as quicker during our in-house test (check out our About Us Page)